I was working on a new WooCommerce website today and was puzzled as to why the categories and products weren't appearing in my Appearance > Menus area in order to add them to the UberMenu we're using for this website (this would have been an issue regardless of the type of menu being used). And then that "D'OH" moment hit! This is the easiest fix in the world.
Find the "Screen Options" button at the top right of your admin panel screen.

Click that little grey arrow within the button box.


The area that appears lists all the different screen display areas you can choose to have appear.

Simply select and de-select the items you want to have appear and the ones you may want to have disappear.

And there you have it. Your options for adding to the menu now look like this: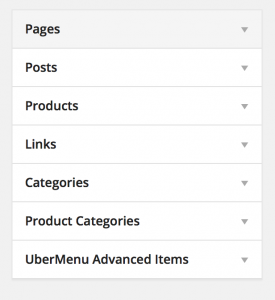 Wasn't that easy?
Let me know if this helped you or if you have any questions in the comments below.